AREK ZAWILIŃSKI & NA DRODZE – a band/a musical project that began in 2002 from urgent need to play acoustic music that was created on the basis of blues, folk and ballads.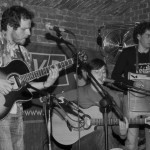 The same year the band, including Arkadiusz Zawiliński, Maciek "Kura" Kurowski, Grzegorz Zawiliński records a CD called NA DRODZE DONIKĄD and publishes it on their own accord.
The band plays many concerts and it makes members a bit tired. Then Grzegorz Grądalski and Sobiesław Pawlikowski join the group and increase morale. Concerts of five-men-band results in a live recording at the Muzyczna Owczarnia in Jaworki – YAWORKI LIVE.
Next years are full of concerts in various groups and other non-musical activities. In 2005, Arek moves again. Then Przemek Chołody joins Arek and his brother Grzesiek Zawiliński and they create a group that plays more and more concerts. They decide to place an advertisement in one of music stores in Warsaw. After some time Roman Ziobro joins the band and together they record a DEMO album.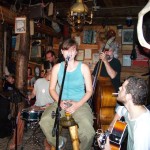 In 2006, the band associates with BIES CZAD BLUES where they start a cooperation with Joanna Pilarska, a singer, and in 2007 they record an album TAM GDZIE ZACZYNA SIĘ MÓJ ŚWIAT (Where my world begins), published by Dalmafon. In this line-up the group has played many concerts in Poland and in Europe.
WIn 2009, Arek lives in Bieszczady and one day he stops by at Siekierezada bar in Cisna and there he finds a new and unique topic for his next album, which is recorded in November, 2009. The album BLUES DZIEWIĘCIU (Blues of the nine) was published by Dalmafon, and Arek Zawiliński & Na Drodze promote the CD on various festivals including Bieszczadem (July) and Bies Czad Blues (August) as well as play many concerts in duo around the whole country.
In 2012 the band started recording new songs that are featured on the new album called ŻELAZNA (IRON). The promotion of the album was held on Rawa Blues Festival.
Important events:
– 2002 – the beginning of the band – recording of NA DRODZE DONIKĄD CD – autumn with blues in Białystok; second place with Kropla Życia;
– 2003 – live recording YAWORKI LIVE;
– 2004 – FAMA festival in Świnoujście;
– 2005 – BIES CZAD BLUES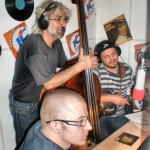 – 2007 – album with Joanna Pilarska "TAM GDZIE ZACZYNA SIĘ MÓJ ŚWIAT – concert wit POLSKIE RADIO GDAŃSK, BIES CZAD BLUES AND BIESZCZADZKIE ANIOŁY
– 2008 – BLUES EN BOURGOGNE – Festival in Le Creusot (France) – BIES CZAD BLUES – recording new album "BLUES DŹIEWIĘCIU"
– 2010 – NATCHNIENI BIESZCZADEM – BIES CZAD BLUES
– 2011 – BIES CZAD BLUES
– 2012 – recording of the new material for the ŻELAZNA album; RAWA BLUES FESTIVAL – première of the album.